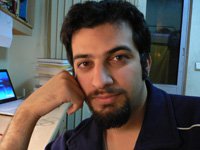 Post Doc
Building C7.1
Room 0.10
Universität des Saarlandes (Saarland University)
66123 Saarbrücken

adavody (at) lsv dot uni-saarland dot de
+49 681 302 58 4348
Research Interests
Machine Learning.
Publications
Deep Knowledge Based Agent,
ICML2019 workshop on Generative Modeling and Model-Based Reasoning for Robotics and AI,
Ali Davody.
Self-Trained Image-to-HTML Convertor,
ICML2018 NAMPI workshop, Neural Abstract Machines & Program Induction,
Ali Davody, Homa Davoudi, Mihai S. Baba and Razvan V. Florian.
Using Sequence to Sequence Neural Networks for Solving Similar Mathematical Problems,
ICML2018 workshop on Learning and Reasoning Proceedings, p30-38,
Ali Davody and Mihai Sebastian Baba.